What The Fur Floor Wars Rules: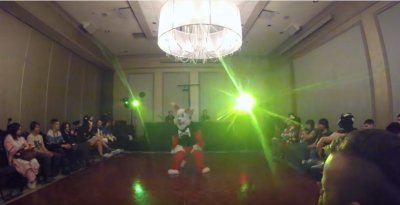 1) Be ready and at the event at least 15 minutes prior. Find the organizer and check in! Show them your badge. You are also welcome and encouraged to sign up on the spot. The more the merrier, though we can only take up to 8 (suited, as well as 4/8 non-suited) for the main event. Any extra sign-ups will be alternates. If there is extra time after the main competition, alternates will be asked if they wish to do a non-judged showcase.
2) When you are called to dance, you need to be present! If you are not present, we will wait 2 minutes before calling a forfeit. If you forfeit and there is an available alternate, they will take your place.
3) Dance roster and music is randomized! You cannot request a song or to be paired with a specific competitor.
4) Each round will consist of 3 songs, the competitors dancing for 45 seconds each to them in turn.
5) Competitors should be respectful of other competitors and the judges. Please do not touch your opponent during the competition (however- pre/post-round handshakes or hugs are appreciated!) No obscene gestures! No arguing with judges! We're all friends here!
6) Each dancer competes at their own risk. Injuries can happen if attempting high risk moves. Participation in this competition indicates acceptance of such risks. What The Fur cannot be held liable for any injury. CHALLENGE YOURSELF, BUT STAY SAFE!
Judges can discuss who they like during the round but when the ruling is ready, they will keep silent and vote for their preference. There will be no feedback during the competition. The judges vote by a show of hands, left or right, to show which competitor they prefer based on their location on the dancefloor. Judges can also vote for a tie by crossing their arms. In the case of a tie there will be a single round tie-breaker showdown.
As stated a few times, What The Fur is host to the tastiest opening ceremonies of any convention. This has been the unanimous sentiment of at least six chairs from other conventions, ranging from SF&F, Furry, and Anime.
The Chocolate Social, originally a part of
C-ACE
, has been resurrected at
What The Fur
in all its glory. With Serval offering up his chocolate knowledge, everyone gets to partake in the taste sensation and education.
Presented here is a map of all of the chocolatiers in Montreal that supply our Social.
Games? Yes! We have games! What would a furry convention be without a competition of skills and wits revolving around fursuits?
What The Fur presents many activities in our own team-based competitions. From musical chairs to pin drop to scooter races, our games are sure to entertain spectators of all ages as well as the competitors themselves.
We even put our own spin on things, with new challenges such as Hungry Hungry Fursuiters!
2013 brought something brand new to furry conventions. Something never done before. And we will be continuing the new tradition.
What The Fur is proud to host the International Fursuit Hockey League.
The contest will consist of short games, pitting teams from various other conventions or cities against eachother to see who can win the cup.
Who will win? Who knows!
Every year we brainstorm. Every year we try and come up with the most creative, and most challenging of items to be used in the Iron Artist competition.
In the Iron Artist, our esteemed guests of honour are pitted against several other participants from the convention, be they artists, authors, costumers, or just general people. They are brought in unprepared, uninformed, and primed to win.
And once seated, the competitors are given one hour - sixty simple minutes - to come up with a winning piece of art.
The challenge lies in the medium. It is kept as a closely guarded secret until the moment the challenge begins. It can be anything. In the past, we have challenged our mighty artists with materials such as Play-Doh, Crayola crayons on Bristol Board, and Play Mais. The results have been stunning.
We want your suggestions for the medium! Keep in mind that it can't be too messy. But if you have an idea, let us know! Send an email to
iron.artist@whatthefur.ca
with your suggestions!
The winning suggestion is eligible to get something a little special.